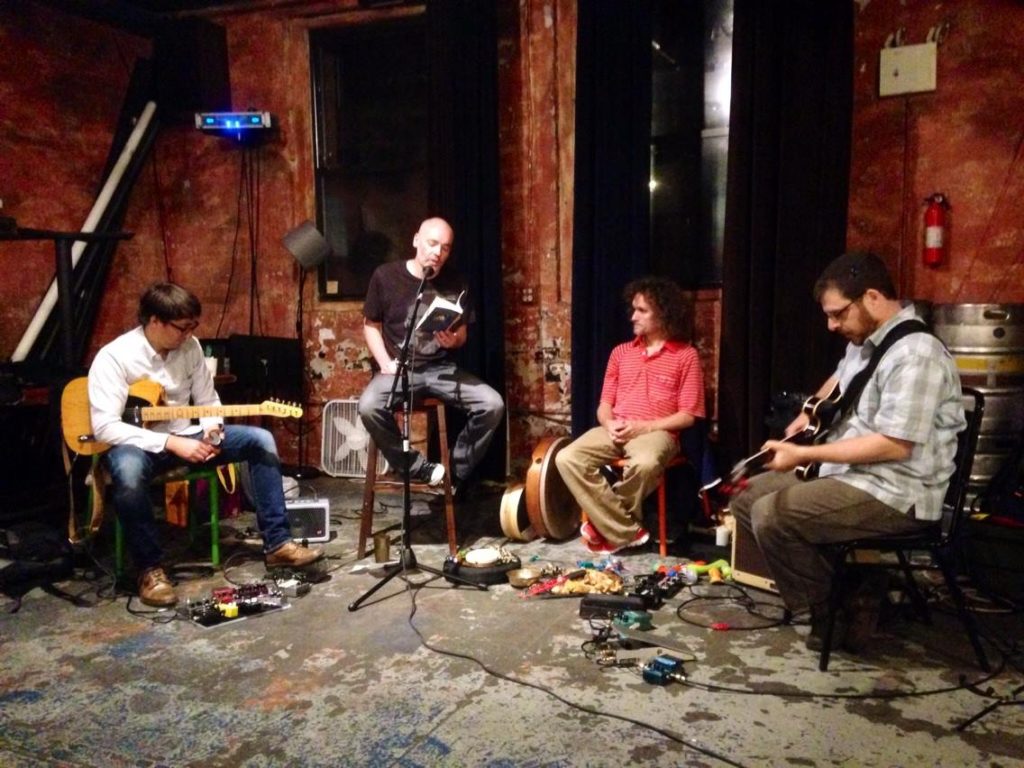 May 29, 2014.
It was billed as a throwback to the old Beatnik days, minus the bongos and clove cigarettes.
As such, New York City was a mandatory locale; Brooklyn made it perfect.
Gratitude to The Tea Lounge for accommodating us.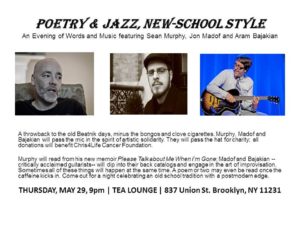 On the bill: "Author" Sean Murphy, guitarists Jon Madof and Aram Bajakian and drummer/percussionist Mathias Kunzli.
I've enjoyed and respected these three musicians for many years. I've written about them before (check it out HERE, HERE, HERE and HERE) and I'll write about them again.
And even if this was a one-off event (which I certainly hope it won't be) this was an extraordinary opportunity to share the stage with these brilliant artists.
I had high expectations and can honestly say that they were all surpassed, on creative, personal and spiritual levels.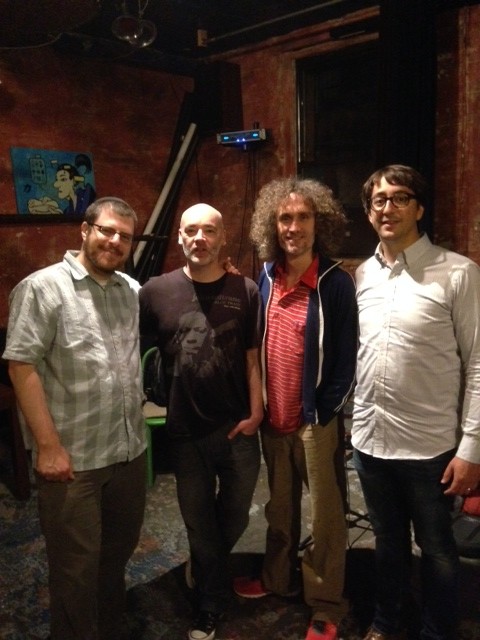 Regarding the video below, my goal was (and still is) to edit it out into more bite-sized, viewer-friendly bits. But for now, here it is as it went down, two hours of words, music, improvisation and the sound of many, many coffee drinks being made.
For those who wish to proceed directly to the spoken passages (or, the smart people who wish to proceed directly to the improvised music), here is a rough guide to help you navigate.
0:00-4:50 — Stage setting
4:51-6:10 — Introductions
6:11-10:58 — First reading ("Please Talk about Me When I'm Gone")
10:59-14:11 — Second Reading ("Conversation")
14:12-23:40 — First Improvisation
23:41-28:30 –Third Reading (Poem: "As Opposed to Prayer")
28:31-35:05 — Fourth Reading/Improvisation (Short Story: "Waiting Room")
35:06-41:12 — Second Improvisation
41:12-46:41 — Fifth Reading ("Bright Moments")
46:42-50:02 — Third Improvisation
50:03-53:42 — Sixth Reading ("Sanctuary")
53:53-56:14 — Fourth Improvisation
56:17-1:03.53 — Seventh Reading ("Not To Mention A Nice Life")
1:03.54-1:09.05 — Fifth Improvisation
1:09.06-1:12.12 — Eighth Reading ("Drinking")
1:12.13-1:23.00 — Sixth Improvisation
1:23.01-1:32.45 — Ninth Reading ("Good Neighbors/Newark Airport, 1980″)
1:32.46-1:46.16 — Seventh Improvisation
1:46.17-1:52.06 — ("Golfing Buddies")
1:52.07-1:57.28 — Eighth Improvisation