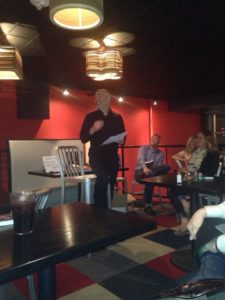 A not particularly famous person once said: It takes a village to raise a child, it takes a forest to write a book, and it takes good friends to spread the word. (Hint: that person is me.)
If you have bought, and read my book,  you have already done more than I could reasonably ask.
However, there are three things you can do TODAY, very quickly and easily, that will help me get the word out beyond the Friends & Family network.
Leave a review on Amazon. A few sentences are sufficient, and no pressure; you're writing a recommendation, not a formal review. Goodreads.com is also an important site, and reviews are even easier there (if desired, the book can just be ranked on a 5 star system).
Tell a friend! Put a link to my Amazon page on Facebook and recommend it to your people!
Let me know if you belong to—or are aware of any—book clubs. I spoke to a local group last week and it was an amazing experience.
Be on the lookout for the memoir's release on Kindle, coming soon. It will be rolled out with a specially-priced promotion.
I don't need a special occasion or an entire month to give thanks for all my good fortune: I remain humbled and use my gratitude as inspiration to do more good. Thanks for helping, and for being in my life.
Cheers!