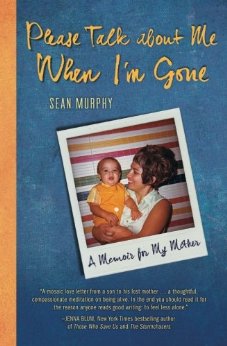 Author chronicles his mother's battle with colon cancer
Posted: October 4, 2013
By Laura McFarland
The Winchester Star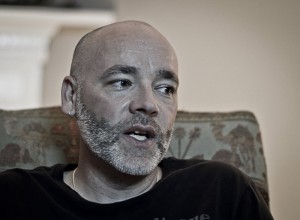 Winchester — The five years chronicled in "Please Talk About Me When I'm Gone" (available at Amazon 
HERE)
 are some of the hardest Sean Murphy has ever experienced.
From 1997 to 2002, Murphy, 43, of Reston, watched his mother fight but ultimately lose her battle with colon cancer. It was a harrowing and heartbreaking time in his life, and one he wishes no family had to experience.
With his new memoir, which he self-published Sept. 6, the author recounts his family's experiences in the hopes that it will help someone else who might be going through the same thing or is dealing with the grief of a lost loved one.
"We as a family battled the illness for five years. In the book, I explore some of the things we learned along the way and explore some of the things we wish we would have known and had asked," he said.
Murphy will have a book signing for the memoir from 7 to 9 p.m. today at the Winchester Book Gallery, 185 N. Loudoun St. The book is $15 and proceeds will benefit Hospice of the Piedmont in Charlottesville.
The author's ultimate goal writing the memoir was to raise awareness not only of cancer but the issues people deal with as they go through it, he said. Between the overwhelming task of fighting the disease and dealing with the emotional and physical toll it can have on a family, people often feel alone and don't know where to turn.
"If the memoir imparts some sense of solidarity with those who find themselves dealing with the grief or the process, that is the best way I could honor my mother's memory," he said.
Murphy's mother, the late Linda Murphy, was 59 when she died. In writing the book, he wanted not only to tell about her fight with cancer but who she was as a whole person. The book talks about her childhood, marriage, and motherhood.
As a son and writer, he hopes what comes through the text is how much she meant to him and contributed to the person  he has become as an adult.
"To someone who reads the book,   there won't be any questions about how I feel   the way she was as a kind, brave person who fought cancer as hard as she could," he said. "We did the most we could but as is often the case, unfortunately, cancer is resilient once it gets a foothold."
The memoir also deals with how  Murphy, his father, Jack, and his sister, Janine Murphy-Neilson, have survived the grief of losing his mother, he said. "It took me several years to process the grief before I  even dared considering tackling this book."
Murphy-Neilson, 47, of Herndon, said she encouraged her brother to write the memoir believing his talent as a writer and the story of what her family went through would make it something that would really connect with people.
He sent her parts of the manuscript as he wrote it,  and it was an emotional time to relive some of those experiences and how he articulated his grief.
"It is amazing to see him take something that was a lot of pain and heartbreak and be able to construct this story out of it and express things," she said.
Like her brother, she hopes people who read the book  that are going through a similar battle will find it helpful to learn about the Murphys' experiences dealing with cancer. Her family was poorly prepared to go through something like cancer, and she feels many others would feel the same.
"Most of us have no familiarity with the medical establishment and people being ill. You are trying to muddle through it as best you can," she said. "Only in retrospect can you question things and think about things differently."
Murphy has been publishing fiction, reviews and essays on the technology industry for almost 20 years, he said. He blogs at bullmurph.com and writes regularly for PopMatters magazine about pop culture.
Information
The Winchester Book Gallery, 185 N. Loudoun St., will have a  book signing for Sean Murphy's "Please Talk About Me When I'm Gone" from 7 to 9 p.m. today. The book is $15. For more information, contact 540-667-3444.
Check out the book HERE.