One of the brightest moments in a weekend filled with them occurred when my great friends John and Lisa Santoro gave me the gift seen above: a framed copy of the book cover. Naturally this was put to use and graced the signing table (as it will at all subsequent events).
Here is the Facebook status I put up Sunday morning, still buzzing from the festivities from the night before: Clichés be damned: I am literally overwhelmed and overjoyed by the love and support on display yesterday. One of the greatest days of my life? No question. Thank you, all, for being part of it. I LOVE YOU!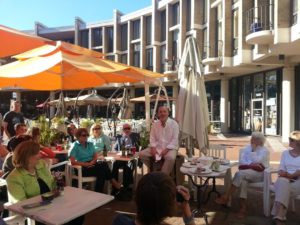 Here's a passage from the memoir's prologue:
Looking out, all my familiar faces: my father, my sister, her husband, my nephew and niece, the two aunts—my mother's sisters—who had been with us for those awful, awe-inspiring final two weeks, and behind them the confidantes, colleagues, childhood friends, grown-up acquaintances, friends' parents, and all the less recognizable faces I hadn't seen in so many years. This is the closest we come to witnessing our own funerals. The same people there to support us, smile and cry with us, becoming part of the moments that become memories; an event that connects us and brings us closer, no matter how far away or disparate our lives might otherwise be.
Looking out at my family and understanding that they helped shape me, that I wouldn't change anything even if I could. We learn to put away childish things and earn the chances we've been given, the responsibility to carry on the work that has already been done on our behalves. Equal parts fate and good fortune, we look at those familiar faces and understand what they have done, and what we need to do.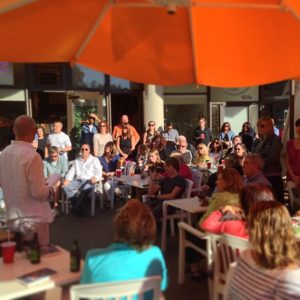 The event was graced by the presence of a very special, honored guest: Robert E. Simon, the man who designed, and named, the town of Reston, VA. It was a privilege to toast him and enjoy a spirited exchange involving places and events, all the great memories he helped make possible. This great man turned 99 this spring and, hearing him speak, it seems reasonable to believe he'll be with us for many more years. Here's to that! Cheers!